Introduction
If there is one brand that has been making news all for the right reasons on social media, it is Monat. In a relatively short span of time, Monat has been able to develop quite a huge fan following in the industry, selling primarily through its online stores and various dealers and stockists.
The brand started off in 2014 and was primarily focused on creating great hair care products that restore and regenerate growth. At the time, it was able to capture a large part of the hair care market by focussing on the organic nature of its products and its integration with proven science and tech.
In 2019, the brand, riding on the success of its haircare line, expanded into the skincare ecosystem with Monat Skin Care Products. The same philosophy of using organic and botanical goodness was what formed the foundation of the skincare range. It quickly grew through clever social media marketing and an excellent eCommerce site.
In this article, we are going to cover the following on Monat Skin Care Products
The history and background of Monat Skin Care
Is Monat Skin Care good?
Range of skin care Monat products
The cost of Monat Skin Care Products
Major ingredients used in the skin care range
If you are someone that is researching the brand and want to know everything relevant from ingredients used to range and costs, then please stick around till the end of the article.
Monat Skin Care: All that you need to know
In 2014, Luis Urdaneta, a Venezuela-born entrepreneur launched Monat. He started with the hair care line after he found that there was a severe lack of great products that could take care of hair growth, regeneration, and more.
It was the success of the hair care line and products that made Luis Urdaneta take the plunge and offer a skincare line. The vision was backed by the power of cutting-edge research into everything organic, natural, botanical, and scientific.
Monat prides itself on being a 21st-century brand and this is evident in its foundation of being ethical, organic, vegan, and cruelty-free. Monat is owned by the ALCORA Corporation and was founded by Luis Urdaneta.
Monat skincare products are available at a price point between $30 and $100. It is specifically concentrating on anti-aging skin care products that help in the reduction of facial lines, wrinkles, and pigmentation marks. It recently launched men's skincare Monat products.
Some of the ingredients that you are going to find in Monat skincare products are- AHAs, Hyaluronic Acid, Chamomile Oil, Peptides, and their most favored ingredient, Abyssinia Oil. The last one finds favor in both their hair care as well as skincare Monat products.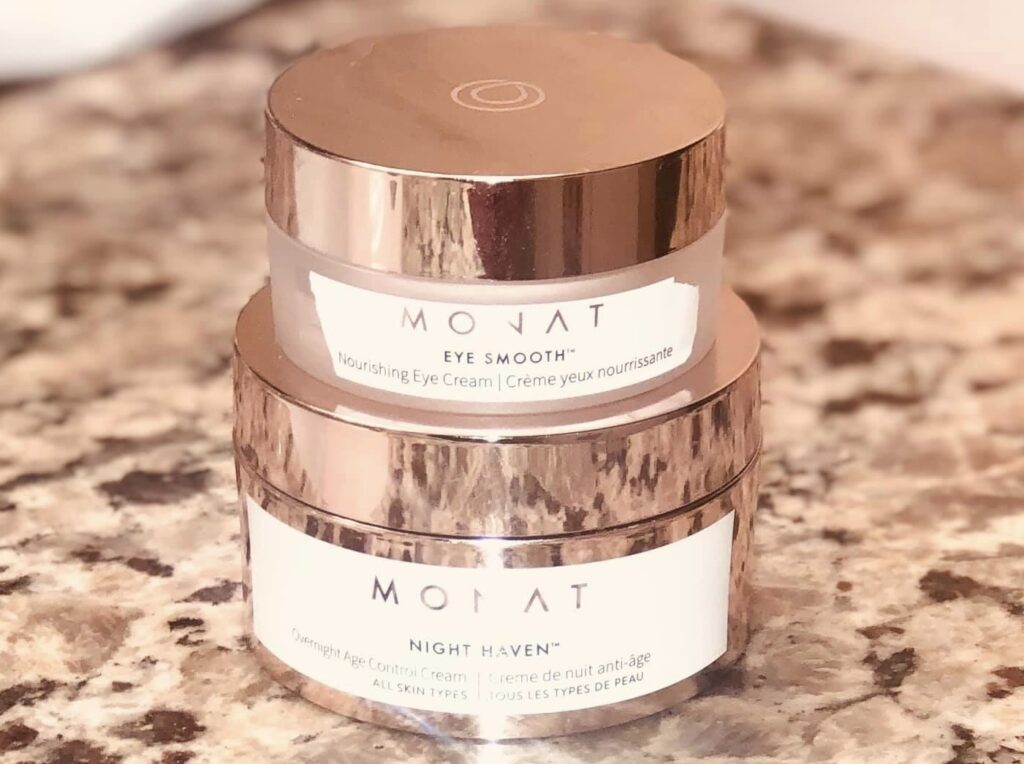 Is Monat Skin Care Good: What Reviews Tell Us?
The first thing that you should know about whether Monat skincare is any good or not is the fact that it has not been on the market for a long time. The brand and its skin care product line just started back in 2019.
However, it surely offers a great beginning point with the promise of:
Paraben-free
Fragrance-free
No dyes
Zero Plastic
Phthalates free
Zero Silicone
It is a pure vegan skincare product and lives up to the organic and natural tag.
According to the leading review platform, Trustpilot, 63% of all reviewers found Monat products to be excellent. There were 30% of reviews that termed the brand as bad. Overall, the brand scored a decent 3 out of 5 stars on Trustpilot.
A great write-up in New Beauty Magazine states that Monat Skin Care is everything that you would want in a wellness and beauty product. The write-up specifically mentions the Berry Refined Scrub. The writer wrote that it left her feeling softer and more luxurious.
There is no denying the fact that the potency of skincare products and whether they will end up working or not depends a lot on our health, diet, and other factors.
Monat definitely has a strong social media presence and is able to generate positive reviews for its skincare products.
Monat reviews are positive with stress on their ingredients and vegan nature.
Monat Skin Care Products: The Complete Range
The first thing that you should know about the Monat Skin Care range of products is that it has a predominant focus on anti-aging products. Casual browsing through their website will tell you that all their models are in the age bracket of thirty to forty.
Monat focuses on diversity inclusion within its selection of models. This is a great and positive thing to see and shows the intent of the brand and its communication with the target audiences.
Monat's skincare website calls for a 4-step skincare process or routine
Cleanse
Prepare
Target
Replenish
You have skincare products according to Dry Skin and Combination/Normal Skin. The four steps mentioned above are represented according to product offerings in every skin type.
Be Balanced Foamy Cleanser – The Be Balanced range is designed for women with normal to combination skin. It contains fruit extracts and antioxidants to cleanse the skin naturally. The foam does not dry it out but rather acts as a softening agent.
Be Balanced Lightweight Moisturizer – Monat moisturizers all-day hydration because of one key ingredient- hyaluronic acid. The presence of plant cells and rejuvenating botanicals ensure that fine lines and wrinkles are kept at bay post-application.
Be Gentle Creamy Cleaner – Perfect for dry skin, the Be Gentle Creamy Cleanser contains AHAs and tons of peptides that help in cleansing the face without overtly drying it out. The best part about this is that you can use it twice a day.
Be Gentle Nourishing Moisturizer – Since this moisturizer is aimed at users with dry skin, it is recommended that you use this product two times a day. The simple application will allow you to eliminate lines, wrinkles, and pigmentation marks.
Rewind Age Control Nectar – As we mentioned, Monat has a specific focus on anti-aging. This serum contains some truly brilliant ingredients like peptides, Kakadu Plum, Abyssinian Oil, and AHAs. This restores elasticity and adds volume to the skin.
The brand recently launched its Monat Men's Care range with Face Wash, Scrub, Moisturizer, and Shaving Cream.
How Much do Monat Skin Care Products Cost?
According to leading skincare reviewers, Monat skincare products are in line with other prestige brands in the ecosystem. There are two main options when it comes to pricing. You get individual pricing for the product, or you can go for their VIP pricing. The latter requires you to pay a one-time registration fee and schedule your orders according to specific dates in advance. The VIP pricing then offers you a discount between eight to ten dollars on each product.
The entire collection of Be Balanced skin care products that comprise 4 items can be bought for a price of $236.
The range of Be Gentle skin care products that also contain 4 items will be yours for a slightly higher price of $278.
In addition, Rewind Age Control Nectar or Anti-Aging serum is priced quite affordably at $120.
Lastly, the Revitalizing Essence that contains great oils is priced competitively at a price of $45.
Overall, if you are planning to give this a try, you are looking at a figure of around $400 for a month's worth of supply for Monat products. which we will say is not bad at all. Of course, it depends on the type of application style you follow and whether you are willing to use the products for so long or not.
Major Ingredients Used in Monat Skin Care Products
Monat's team leans strongly towards using plants, fruits, and other nature-based extracts to develop their skincare products. As we have already mentioned, all the products are ethical, vegan, and cruelty-free.
Let us look at some of the key ingredients that provide the goodness and nourishment in skincare Monat products:
The Rejuvenique Oil, which Monat refers to as an elixir has at its base, Abyssinian Oil. It is also infused with more than 13 natural and plant-based essential oils.
Another active ingredient used in Monat skin care products is Hyaluronic Acid. This provides great hydration to the skin and is a critical component in anti-aging products.
You also get AHAs or Alpha Hydroxy Acids which are another core ingredient in great skin care products. along with a host of plant-based peptides.
The Final Takeaway
Monat, the brand, and its range of hair care and skin care products have been able to make quite a name for itself in the industry. It has fallen back on basics- great products, brilliant ingredients, zero chemicals, and aggressive pricing strategies to grow in volume as well as popularity. If you would like us to cover any other aspects of Monat skincare products, please let us know in the comments section below.